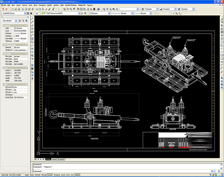 AutoCAD: is a program designed using the computer to design two and three dimensional issued by the U.S. company Autodesk. The first version of it is used in 1980 under the product name (CAD) which means almost computer aided design, used in any of the areas of design such as designing costumes, civil engineering, architecture, mechanical engineering, interior design. It is used to create all project designs and watch as you are in the truth which through its accessories as output program (Render) conduct some experiments on the design such as choosing colors, lights and preview spaces in the field of architecture, also for some accessories can make the mechanical designs and some tests on them .It can export its files to the program 3D Studio Max to take it out by the latter.



AutoCAD® 2013 Essentials: Level 1

This courseware is designed for the new AutoCAD® user who requires comprehensive training in AutoCAD. It incorporates the features, commands, and techniques for creating, editing, and printing drawings with AutoCAD 2013. Hands-on exercises, both onscreen and printed in the Exercise Workbook, explore how to create 2D production drawings.

AutoCAD® 2013 Advanced: Level 2

This courseware is designed for the experienced AutoCAD® user who requires additional training. It incorporates the features, commands, and techniques for becoming more productive when creating, annotating, and printing drawings with AutoCAD 2013 this intermediate-level course continues to build on the basic concepts of the AutoCAD 2010 Essentials course. Hands-on exercises are used throughout the courseware to illustrate the concepts that are taught. The exercises are provided in both a printed exercise workbook as well as an online format that can be viewed next to AutoCAD on your monitor.
We have individual (private class one on one), group classes, morning, afternoon and evening sessions. Every day classes available. You may inquire through any of our training coordinator, plan ahead and start your career with us.
Basic AutoCAD Electric Drafting Functions

2-D Drafting (Mechanical, Electrical, Architectural, etc.)
Lines, circles, arcs, polylines, rectangles, polygons, splines, points, texts, and area hatching

3-D Modeling

Wireframe modeling, surface modeling, and solid modeling
3-D primitives including boxes, wedges, cones, cylinders, spheres, and toruses; extruded and revolved solids from 2-D objects, and
Boolean operations to the 3-D objects including union, subtraction, and intersection).
Operations to 2-D and 3-D Objects
Moving, rotating, copying, mirroring, and erasing.

Viewing

Zooming and panning, multiple viewport generation, user coordinate system
(UCS) definition and viewing direction selection.

Dimensioning and Tolerance

Linear dimensions, angular dimensions, radius dimensions, diameter
Dimensions, baseline dimensions, continuous dimensions, leaders, and size
And geometric tolerances.

3-D Images

Wireframe images, hidden line images, shading images, and rendering images.

Organization of Objects

Layers, colors, line types, groups, blocks, attributes, and references.
AutoCAD Interface Environment
The user's interface of AutoCAD consists of a graphics window and a text window.
We provide two easy steps on how you can join the course.
Fill-up the registration form and visit the Institute, with the following requirements then pay the necessary fees.

passport copy or national id copy
1 copy of passport size photo
education certificate copy
CV or background profile