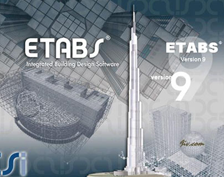 ETABS is a Powerful computer program developed specifically for building structures. It provides the Structural Engineer with all the tools necessary to create, modify, analyze, design, and optimize building models. These features are fully integrated in a single, Windows-based, graphical user interface that is unmatched in terms of ease-of-use, productivity, and capability. This course helps you in using ETABS to design High-Rise Structures subjected to Static Gravity and Lateral Loads.
We have individual (private class one on one), group classes, morning, afternoon and evening sessions. Every day classes available. You may inquire through any of our training coordinator, plan ahead and start your career with us.
1: Introduction & Modelling

Introduction
Objects
Templates
Floor information
Modelling/ Geometry

2: Material & Section Properties

Material properties
Section properties
Wall/ Slab/ Deck Sections

3: Draw & Options

Drawing of point, line and area objects
Reference lines and planes

4: View, Selection & Options

View Management
Object Selection
Options and preferences

5: Assignment Structural Options

Point object assignments
Line object assignments
Area object assignments

6: Assignment - Loads

Load cases - Dead Loads/ Live Loads/ Wind Loads/ Earthquake Loads
Load combinations
Load assignment

7: Analysis

Analysis options
Analysis log

8: Text & Graphical Output

Text output
Undeformed shape and load plots
Deformed shape and result plots
Energy plots

9: Editing

Cut, copy and paste
Replicate
Frame and area meshing
Point and line extrusion

10: Text Input and File Export/ Import

Text input file
Export options
Import options

11: Concrete Design using Indian code IS-456

Design of concrete beams and columns
Design of Shear Walls
Design of Composite beam
We provide two easy steps on how you can join the course.
Fill-up the registration form and visit the Institute, with the following requirements then pay the necessary fees.

passport copy or national id copy
1 copy of passport size photo
education certificate copy
CV or background profile