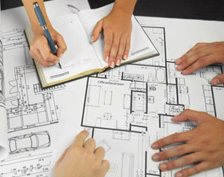 DISC program, students gain a solid foundation in interior design and benefit from the same support and mentorship from experienced faculty as they do in the diploma program. However, the program also prepares graduates for advanced professional roles in interior design.
Design appropriate solutions for mobile, deployable and compact spaces
Apply principles of lighting design to specialized lighting situations, including creative lighting concepts, custom lighting solutions and lighting source design
Work with wire frame construction and solid modeling in CADD and set up photo-realistic rendered images of 3D models
Understand and apply LEED classifications, principles and concepts
Understand principles of quantitative and qualitative research methodologies
Use Building Information Modeling Revit software
Complete a thorough cost estimate package
Design residences, hotels, restaurants, offices and industrial spaces
Develop an understanding of the restorative process and appreciation of the importance of architectural restoration to society
Work at a high level in applying a systematic design process to creative problem solving and work productively with clients, other consultants and co-workers
Demonstrate competence in all areas of interior design work, from programming to contract documentation
We have individual (private class one on one), group classes, morning, afternoon and evening sessions. Every day classes available. You may inquire through any of our training coordinator, plan ahead and start your career with us.
Course Introduction
UAE and global architecture and design
Advanced specifications
Philosophy of design
Codes and regulations
Applied lighting
CADD rendering
Materials and sustainability
Advanced estimating/budgeting and restoration
We provide two easy steps on how you can join the course.
Fill-up the registration form and visit the Institute, with the following requirements then pay the necessary fees.

passport copy or national id copy
1 copy of passport size photo
education certificate copy
CV or background profile