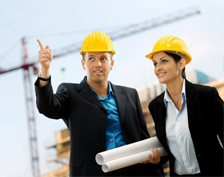 A Career in Civil Engineering is both challenging and rewarding. Help build the next skyscraper, bridge or highway and create structures that stand the test of time. Learn more about how to become a civil engineer here.
Civil engineers' work has a direct and powerful impact on the lives of people, each and every day. Well designed and executed projects provide services to the community, while ensuring safety for everyone. Of course, the opposite is true, in that poorly designed and executed projects can create a high risk to the community, and even cause disasters which can cost many lives.
Certification recognizes the individual as a leader in the practice of their specialized field of engineering.
Certification is an advanced qualification beyond licensure recognized by clients, employers, peers, and the public.
Certification demonstrates attainment of a body of knowledge within a specialty area of civil engineering and commitment to stay current on new technological innovations.
Certification demonstrates a strong commitment to professionalism through its ethics and continuing professional development requirements.
Certification allows civil engineers to maintain significant input into the advanced credentialing process.
Certification provides clients with an assurance that they are engaging highly qualified participants on their projects.
We have individual (private class one on one), group classes, morning, afternoon and evening sessions. Every day classes available. You may inquire through any of our training coordinator, plan ahead and start your career with us.
Introduction to Civil Engineering
Construction Practice and Procedure
Civil Engineering Drawing
Introduction Structural Design
Building Materials in Civil Engineering
Construction Site Management
Pavement Design & Materials
Advanced Concrete Technology
Steel Construction design
Soil mechanics and Material test
Construction Technology 1
Construction Research Methodology
Certification Issued By:
Royal Institute for Chartered Engineers RICE
USA
Royal Institute for Chartered Engineers or widely known as RICE is one of the world's largest engineering institutions in the world. Located in Texas, USA it was established by professional engineers came from different types of engineering who believed that being an engineer doesn't stop after you graduated and labeled as one of the top people.
Membership Issued By:

High Authority Council for Arab Engineers (HACAE)
Egypt
Council member of Arab Arbitration Society. The association provided membership for qualified students who passed the examination for engineering certifications.
We provide two easy steps on how you can join the course.
Fill-up the registration form and visit the Institute, with the following requirements then pay the necessary fees.

passport copy or national id copy
1 copy of passport size photo
education certificate copy
CV or background profile