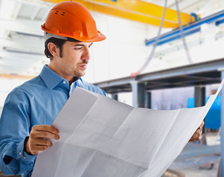 Manage your Construction Projects using Modern International Project Management principles, processes, tools and techniques from International PM Experts and ensure that your project is planned, managed and executed well "On Time and Within Budget". Many Construction Projects exceed time and cost budgets due to poor Project Management. The solution is in becoming a Certified Construction Project Manager (CCPM®).
General Managers
Asst. Vice Presidents
Project Managers
Program Managers,
Project Executives,
Construction/Site Managers
Procurement Managers
SCM /CRM Consultants
ERP / SAP Professionals
ERP Functional Consultants
HRMS
Accounts / Banking Domain Consultants
EPC Contracts
Contracts Managers
Planning Engineers
Marketing Managers
Business Analysts
Testing managers
QA/QC Managers
Business Development Managers
Procurement managers
Construction managers
Benefits of attending the course:
The ability to use the designation MPM® on your business card and resume
2-years membership to the AAPM professional body
Access to the AAPM project management network and body of information online
Access to the AAPM international journal published online
Gold Seal Embossed MPM® Certificate with your name and designation
The MPM® shows that you have completed graduate level project management education and you have substantial experience in managing projects on a regional and global level
We have individual (private class one on one), group classes, morning, afternoon and evening sessions. Every day classes available. You may inquire through any of our training coordinator, plan ahead and start your career with us.
Introduction
What is a Project?
What is Project Management?
Various Types of Project/Contracts (LSTK/Unit Price/ BOOT/BOT/FFP)
Introduction to PM, MBE, MBO, MBP
Construction Project Lifecycle Costing
Project Management Processes
PM's Roles & Responsibilities
Project Organization Structures-Strength & Weakness
Construction Project TENDER/BID Management
Construction Project CONTRACT Management
Construction Project EQUIPMENT/SAFETY Management
Case Studies
We provide two easy steps on how you can join the course.
Fill-up the registration form and visit the Institute, with the following requirements then pay the necessary fees.

passport copy or national id copy
1 copy of passport size photo
education certificate copy
CV or background profile