Certified Engineering & Construction Contracts
(Claim & Disputes)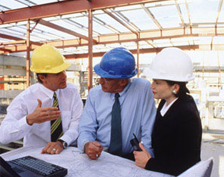 Today's competitive and complex construction industry requires careful consideration in the formation of the construction contract to ensure that it is equitable, the specifications and timetable are feasible, and that liability and obligations are clearly defined. Properly prepared contractors, subcontractors, architects, engineers, and developers can thus avoid anticipated problems, reduce performance disputes and receive payment for work performed. 
This course is also designed to systematically cover the developmental subjects vital to training competent contract and field administrators to manage time, cost, documentation and disputes during this important phase.  Field administration is a critical process in achieving successful facility construction. Most organizations cannot afford the personnel time to apprentice a field administrator‐in‐training.
Construction managers and workers
Job-site supervisors
Superintendents
General contractors
Construction firm directors
Anyone involved in the construction industry
We have individual (private class one on one), group classes, morning, afternoon and evening sessions. Every day classes available. You may inquire through any of our training coordinator, plan ahead and start your career with us.
Managing Construction Risks

Project Life Cycle
Reviewing the Fundamentals of Project Risk Management
Risk Identification and Classification
Risk Priorities
Risk Allocation
Contractual Risk Allocation
Reducing Risk When Selecting Construction Projects
Contractual Risk Management
Case Study

Legal Aspects of Construction Contracts: The Law of the Contract: Civil Law, Common Law, Administrative Law

Basic Contract Law
Basic Principles: Mandatory and Complementary Rules in Civil Law
Elements of Contracts
Sources of Obligation under Civil Law
Enforceability of Contracts
Principles of Interpretation
Damages
Force Majeure
Unforeseen Conditions
Assignment of Rights
Redemption of Breach
Limitation Period
Warranties
Notice Requirements
Case Study
Parties' Obligations

Types of Relationship:  Contractor, Agent and Employer
General and Particular Conditions
Obligations of the Parties:  Contractor, Designer, Employer, Contract       Manager
Role of the Engineer in Construction Contracts
Change Clauses
Time is of the Essence
Case Study
Conclusion

Introduction and Participants' Objectives

Preparing Construction Documents
Bid Documents
Certification Issued By:
Royal Institute for Chartered Engineers RICE
USA
Royal Institute for Chartered Engineers or widely known as RICE is one of the world's largest engineering institutions in the world. Located in Texas, USA it was established by professional engineers came from different types of engineering who believed that being an engineer doesn't stop after you graduated and labeled as one of the top people.
Membership Issued By:

High Authority Council for Arab Engineers (HACAE)
Egypt
Council member of Arab Arbitration Society. The association provided membership for qualified students who passed the examination for engineering certifications.
We provide two easy steps on how you can join the course.
Fill-up the registration form and visit the Institute, with the following requirements then pay the necessary fees.

passport copy or national id copy
1 copy of passport size photo
education certificate copy
CV or background profile