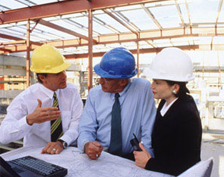 Gain the combined technical, economic, legal and managerial expertise for the quantity surveying profession. This innovative course take quantity surveying to the next level. Impress your employer by adding this designation to your qualification.

When you get a job as a graduate quantity surveyor or graduate building surveyor you'll be expected to qualify as a chartered surveyor. Gaining chartership involves completing a structured on-the-job training scheme and passing the assessment of professional competence (APC). It is an essential part of your professional development, as it provides you with industry-ratified proof of your professional ability and is often followed by a promotion and/or pay rise.
You are eligible for the course if you meet the following requirements:
We have individual (private class one on one), group classes, morning, afternoon and evening sessions. Every day classes available. You may inquire through any of our training coordinator, plan ahead and start your career with us.
Professional Development
Construction, Design and Sustainability
Measurement
Law
Construction Contract Law
Economics & Finance
Health and Safety and People Skills
Procurement
Pre-contract Practice
Valuation
Tender Documentation
Contract Administration
Dispute Resolution
Quantitative Methods
Certification Issued By:
Royal Institute for Chartered Engineers RICE
USA
Royal Institute for Chartered Engineers or widely known as RICE is one of the world's largest engineering institutions in the world. Located in Texas, USA it was established by professional engineers came from different types of engineering who believed that being an engineer doesn't stop after you graduated and labeled as one of the top people.
Membership Issued By:

High Authority Council for Arab Engineers (HACAE)
Egypt
Council member of Arab Arbitration Society. The association provided membership for qualified students who passed the examination for engineering certifications.
We provide two easy steps on how you can join the course.
Fill-up the registration form and visit the Institute, with the following requirements then pay the necessary fees.

passport copy or national id copy
1 copy of passport size photo
education certificate copy
CV or background profile