Construction Health & Safety Environmental Management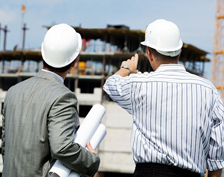 Build broad safety expertise and prepare for career success. Gain a better understanding of OSHA regulations for construction companies, and help keep your company and co-workers safe.
Construction managers and workers
Job-site supervisors
Superintendents
General contractors
Construction firm directors
Anyone involved in the construction industry
We have individual (private class one on one), group classes, morning, afternoon and evening sessions. Every day classes available. You may inquire through any of our training coordinator, plan ahead and start your career with us.
Lesson 1: Construction Safety and Health Management and Key Requirements

Importance of Managing Safety and Health in Construction
Key Legislation and Guidance
Reporting Accidents and Dangerous Occurrences
Training Needs
First Aid Requirements and Welfare Provisions
Summary and Assessment

Lesson 2: Risk Assessment

Hazards, Risks and Controls
Types of Hazards
Accident Prevention
Safe System of Work Plan (SSWP)
Summary and Assessment

Lesson 3: Planning for Safety

Key Duty Holders, the Safety and Health Plan, and the Safety File
HSA and Construction
Summary and Assessment

Lesson 4: Construction Plant and Equipment, Electricity and Other Services

Safe Use of Construction Plant and Equipment
Electrical Equipment
Working Near Overhead Electricity Lines
Working Near Underground Services
Demolition
Overview of Working on Roads
Summary and Assessment
Certification Issued By:
Royal Institute for Chartered Engineers RICE
USA
Royal Institute for Chartered Engineers or widely known as RICE is one of the world's largest engineering institutions in the world. Located in Texas, USA it was established by professional engineers came from different types of engineering who believed that being an engineer doesn't stop after you graduated and labeled as one of the top people.
Membership Issued By:

High Authority Council for Arab Engineers (HACAE)
Egypt
Council member of Arab Arbitration Society. The association provided membership for qualified students who passed the examination for engineering certifications.
We provide two easy steps on how you can join the course.
Fill-up the registration form and visit the Institute, with the following requirements then pay the necessary fees.

passport copy or national id copy
1 copy of passport size photo
education certificate copy
CV or background profile