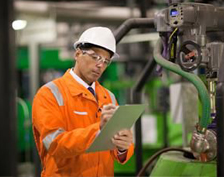 Quality Assurance and Quality Control is applicable in construction, production and servicing industries. Civil, Electrical, Electronics, Mechanical, Instrumentation, production, automobile and even other branches also has QA/QC programs according to their requirement. Qualified and experienced persons are working in quality control department.
Usually fresh mechanical engineers do not have clear idea about the courses and certifications necessary to get placement as QA/QC Engineer / Inspector in industrial construction and in oil field industries. This condition became worse when candidates approach certain institutes, because they offer variety of courses which may or may not be required for QA/QC Engineer. Hence this has to be clear at first.
QA/QC engineers
Inspection Engineers
Auditors
Owner representatives
We have individual (private class one on one), group classes, morning, afternoon and evening sessions. Every day classes available. You may inquire through any of our training coordinator, plan ahead and start your career with us.
MODULE – 1 Roles and Responsibilities of QA / QC Engineer
MODULE – 2 Introduction to ISO
MODULE – 3 International Codes and Standards
MODULE – 4 Symbols
MODULE – 5 Types of Instruments
MODULE – 6 Types of Control Valves
MODULE – 7 Process Flow Diagram ( PFD ) Piping and Instrument Diagram ( P & ID ) and Isometric Drawing etc.
MODULE – 8 Control Loops and Control Systems
MODULE – 9 Instrument Installation and Testing
MODULE – 10 Receiving Inspection , In process Inspection & Final Inspection
MODULE – 11 Control of Nonconforming of Items / Products
MODULE – 12 Calibration of Monitoring & Measuring Equipment
MODULE – 13 Preparation of Project Quality Plan
MODULE – 14 Preparation of Inspection Test Plans – ITPs
MODULE – 15 Preparation of QC Procedures ( QCP )
Certification Issued By:
Royal Institute for Chartered Engineers RICE
USA
Royal Institute for Chartered Engineers or widely known as RICE is one of the world's largest engineering institutions in the world. Located in Texas, USA it was established by professional engineers came from different types of engineering who believed that being an engineer doesn't stop after you graduated and labeled as one of the top people.
Membership Issued By:

High Authority Council for Arab Engineers (HACAE)
Egypt
Council member of Arab Arbitration Society. The association provided membership for qualified students who passed the examination for engineering certifications.
We provide two easy steps on how you can join the course.
Fill-up the registration form and visit the Institute, with the following requirements then pay the necessary fees.

passport copy or national id copy
1 copy of passport size photo
education certificate copy
CV or background profile