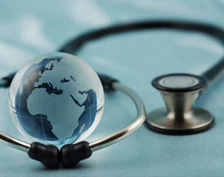 The front desk of a hospital is the microcosm of a populace – the middle class, the ultra rich, farmers, the very poor, the aging and of course the very frail and ill. All have one item in common; they don't want to be at the hospital. The Front Office is the first impression patients have of a Hospital, Nursing Home, Diagnostic Centre etc. and their overall experience in receiving treatment. Personnel in the Front office need to be thoroughly trained to ensure patient satisfaction. With trained people on the job, patients tend to feel comfortable and return to the same organization to receive care, thus generating repeat business.
Utensil a smile
Provides excellent customer service and performs front desk receptionist duties
Excellent client service communication skills verbal and non-verbal
Able to remain calm and efficient during a medical crisis
Data entry skills
Teamplayer, able to work well with all team members
Rephrase blunt communication for better results
Effectively manage job stress
Develop an action plan to improve their customer service skills.
We have individual (private class one on one), group classes, morning, afternoon and evening sessions. Every day classes available. You may inquire through any of our training coordinator, plan ahead and start your career with us.
CUSTOMER SERVICE EXCELLENCE AND PATIENT SATISFACTION
PERSONAL & BUSINESS ETIQUETTE
COMMUNICATION IN HEALTH CARE
BEST MANAGEMENT PRACTICES AND CONCEPTS
Certification Issued By:
Institute of Professional Managers
USA
IPM - USA commenced operations in San Francisco USA as an Executive Education programs for positions in Middle East and Far East, Africa. The founders and owners of IPM had worked for many years Executive Education and business training in USA, EU, UK, and Middle East and recognize the growing demand for Executive Education speakers around the world.
Membership Issued By:

High Authority Council for Arab Managers (HACAM)
Egypt
High Authority Council for Arab Managers (HACAM) HACAM believes that this certificate will be a valuable resource for professionals within the Arab world in order to understand how these and other processes for organizational improvement are interrelated. HACAM provides training program in the Middle East and targets Managers of quality-focused organizations/industries, professionals aiming to increase their effectiveness/ productivity and anyone interested in the field of quality.
We provide two easy steps on how you can join the course.
Fill-up the registration form and visit the Institute, with the following requirements then pay the necessary fees.

passport copy or national id copy
1 copy of passport size photo
education certificate copy
CV or background profile