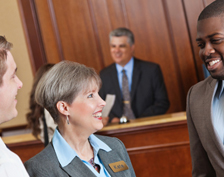 When most people think of the hospitality industry, they usually think of hotels and restaurants. However, the true meaning of hospitality is much broader in scope. According to the Oxford English Dictionary, hospitality means "the reception and entertainment of guests, visitors or strangers with liberality and good will." Hospitality, then, not only includes hotels and restaurants but also refers to other kinds of institutions that offer shelter, food, or both to people away from their homes. We can also expand this definition, as many people have, to include those institutions that provide other types of services to people away from home. This might include private clubs, casinos, resorts, attractions, and so on.
restaurant manager
hotel manager
catering director
food and beverage director
foodservice manager in a college, university, or corporate setting
manager in a motel or bed and breakfast facility
healthcare hospitality foodservice director
school foodservice director
club manager
meeting planner
manager in senior nutrition programs, stadiums or amusement parks or
food purchaser or broker
We have individual (private class one on one), group classes, morning, afternoon and evening sessions. Every day classes available. You may inquire through any of our training coordinator, plan ahead and start your career with us.
THE HOSPITALITY INDUSTRY AND YOU
FORCES AFFECTING GROWTH AND CHANGE IN THE HOSPITALITY INDUSTRY
THE RESTAURANT BUSINESS
RESTAURANT OPERATIONS
COMPETITIVE FORCES IN FOOD SERVICE
ON-SITE FOOD SERVICE
ISSUES FACING FOOD SERVICE
ROLE OF SERVICE IN HOSPITALITY INDUSTRY
Certification Issued By:
Institute of Professional Managers
USA
IPM - USA commenced operations in San Francisco USA as an Executive Education programs for positions in Middle East and Far East, Africa. The founders and owners of IPM had worked for many years Executive Education and business training in USA, EU, UK, and Middle East and recognize the growing demand for Executive Education speakers around the world.
Membership Issued By:

High Authority Council for Arab Managers (HACAM)
Egypt
High Authority Council for Arab Managers (HACAM) HACAM believes that this certificate will be a valuable resource for professionals within the Arab world in order to understand how these and other processes for organizational improvement are interrelated. HACAM provides training program in the Middle East and targets Managers of quality-focused organizations/industries, professionals aiming to increase their effectiveness/ productivity and anyone interested in the field of quality.
We provide two easy steps on how you can join the course.
Fill-up the registration form and visit the Institute, with the following requirements then pay the necessary fees.

passport copy or national id copy
1 copy of passport size photo
education certificate copy
CV or background profile