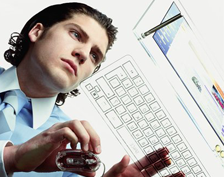 The Cisco Certified Entry Networking Technician (CCENT) certification is the first stage of Cisco's certification system. The CCENT certification is an entry level to the associate level and upper curriculum options like CCNA and CCDA certifications, but is not actually required to take any of these courses or the related exams.

The CCENT program covers basic networking knowledge but it does not get into the intricate technical aspects of the Cisco routing and switching, and network design. The certification does validate the skills essential for entry-level network support positions. CCENT qualified individuals have the knowledge and skill to install, manage, maintain and troubleshoot a small enterprise branch network, including network security. The CCENT curriculum covers networking fundamentals, WAN technologies, basic security and wireless concepts, routing and switching fundamentals, and configuring simple networks.
Created for IT professionals who are responsible for installing, maintaining and troubleshooting local area networks.
We have individual (private class one on one), group classes, morning, afternoon and evening sessions. Every day classes available. You may inquire through any of our training coordinator, plan ahead and start your career with us.
Course Introduction
Module 1: Building a Simple Network
Module 2: Ethernet LANs
Module 3: WLANs
Module 4: LAN Connections
Module 5: WAN Connections
Module 6: Network Environment Management Capstone Lab: Network Environment Management Lab Guide
We provide two easy steps on how you can join the course.
Fill-up the registration form and visit the Institute, with the following requirements then pay the necessary fees.

passport copy or national id copy
1 copy of passport size photo
education certificate copy
CV or background profile