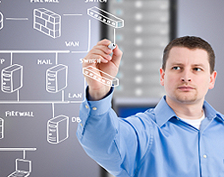 Students will acquire the skills needed to install and support one or more distributions of the Linux operating system and learn information and skills that will be helpful as you prepare for CompTIA® Linux+™ Powered by LPI exams.
This course is intended for entry-level computer support professionals with basic knowledge of computer hardware, software, and operating systems, who wish to increase their knowledge and understanding of Linux concepts and skills to prepare for a career in Linux support or administration, or to prepare for CompTIA® Linux+™
We have individual (private class one on one), group classes, morning, afternoon and evening sessions. Every day classes available. You may inquire through any of our training coordinator, plan ahead and start your career with us.
Lesson 1: Familiarizing Yourself with Linux
Lesson 2: Managing User and Group Accounts
Lesson 3: Managing Partitions and the Linux Filesystem
Lesson 4: Managing Files in Linux
Lesson 5: Working with Linux Permissions and Ownership
Lesson 6: Printing Files
Lesson 7: Managing Packages
Lesson 8: Managing Kernel Services
Lesson 9: Working with the Bash Shell and Shell Scripts
Lesson 10: Managing Jobs and Processes
Lesson 11: Managing System Services
Lesson 12: Configuring Network Services
Lesson 13: Configuring Basic Internet Services
Lesson 14: Securing Linux
Lesson 15: Managing Hardware
Lesson 16: Troubleshooting Linux Systems
Lesson 18: Configuring the GUI
We provide two easy steps on how you can join the course.
Fill-up the registration form and visit the Institute, with the following requirements then pay the necessary fees.

passport copy or national id copy
1 copy of passport size photo
education certificate copy
CV or background profile