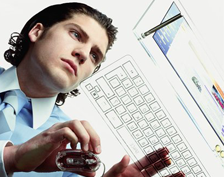 This course will prepare students to pass the current CompTIA Security+ SY0-301 certification exam. After taking this course, students will understand the field of network security and how it relates to other areas of information technology. This course also provides the broad-based knowledge necessary to prepare for further study in specialized security fields, or it can serve as a capstone course that gives a general introduction to the field.
This course is targeted toward an Information Technology (IT) professional who has networking and administrative skills in Windows-based TCP/IP networks and familiarity with other operating systems, such as NetWare, Macintosh, UNIX/Linux, and OS/2, who wants to: further a career in IT by acquiring a foundational knowledge of security topics; prepare for the CompTIA Security+ Certification examination; or use Security+ as the foundation for advanced security certifications or career roles.
We have individual (private class one on one), group classes, morning, afternoon and evening sessions. Every day classes available. You may inquire through any of our training coordinator, plan ahead and start your career with us.
Mitigating threats
Cryptography
Authentication
User- and role-based security
Peripheral security
Public key infrastructure
Application and messaging security
Ports and protocols
Network security
Wireless security
Remote access security
Vulnerability testing and monitoring
Organizational security
We provide two easy steps on how you can join the course.
Fill-up the registration form and visit the Institute, with the following requirements then pay the necessary fees.

passport copy or national id copy
1 copy of passport size photo
education certificate copy
CV or background profile