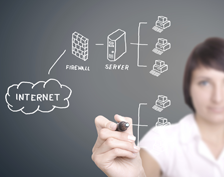 European Computer Driving License (ECDL) also known as International Computer Driving License (ICDL) is a computer literacy certification programme provided by ECDL Foundation, a not for profit organisation. The ECDL / ICDL certification seeks to become a world-wide in Information and Communication Technology certifications.

According to the ECDL Foundation, the ECDL/ICDL is a test of practical skills and competencies and consists of seven separate modules covering computer theory and practice. To achieve an ECDL/ICDL certification, the candidate must successfully pass a test in all seven modules.
We have individual (private class one on one), group classes, morning, afternoon and evening sessions. Every day classes available. You may inquire through any of our training coordinator, plan ahead and start your career with us.
Concepts of information technology
Using the computer and managing files
Word processing
Spreadsheets
Databases
Presentations
Information and communication
We provide two easy steps on how you can join the course.
Fill-up the registration form and visit the Institute, with the following requirements then pay the necessary fees.

passport copy or national id copy
1 copy of passport size photo
education certificate copy
CV or background profile