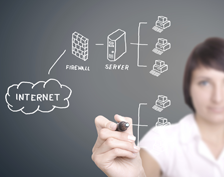 TOGAF, an Open Group certification, is the open enterprise architecture standard used by the world's leading organizations to improve business efficiency. The TOGAF Certification Program has enabled more than 25,000 enterprise architects and trainers around the globe to demonstrate their proven knowledge of the framework. Certification is achieved through a two-part exam, following a course of self-study or an Accredited TOGAF Training Course. The current syllabus is based on the TOGAF 9.1 standard since December 2011.
Used by the world's leading enterprises to certify a common body of core knowledge about the methodology and framework
A trusted, vendor-neutral, globally recognized and portable credential
Valuable in demonstrating to employers and peers your commitment to enterprise architecture as a discipline
An outstanding career move and a foundational certification in the career of any enterprise architect
We have individual (private class one on one), group classes, morning, afternoon and evening sessions. Every day classes available. You may inquire through any of our training coordinator, plan ahead and start your career with us.
Architecture Development Method (ADM) phases in the development of an enterprise architecture
Architecture Governance in development of an enterprise architecture
TOGAF Architecture Content Framework
Building Blocks concept
Stakeholder Management Technique
TOGAF Content Metamodel
TOGAF recommended techniques when developing an enterprise architecture
TOGAF Technical Reference Model and how to customize it to meet an organization's needs
Integrated Information Infrastructure Reference Model
Key deliverables of the ADM cycle
Partition an enterprise architecture to meet the specific needs of an organization
Architecture Repository
Apply iteration and different levels of architecture with the ADM
Adapt the ADM for security
SOA as a style of architecture
Architecture maturity models in developing an enterprise architecture
Architecture Skills Framework and how to apply it within an organization
We provide two easy steps on how you can join the course.
Fill-up the registration form and visit the Institute, with the following requirements then pay the necessary fees.

passport copy or national id copy
1 copy of passport size photo
education certificate copy
CV or background profile