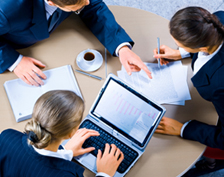 Strategic management is a field that deals with the major intended and emergent initiatives taken by general managers on behalf of owners, involving utilization of resources. It entails specifying the organization's mission, vision and objectives, developing policies and plans, often in terms of projects and programs, which are designed to achieve these objectives, and then allocating resources to implement the policies and plans, projects and programs. A balanced scorecard is often used to evaluate the overall performance of the business and its progress towards objectives. Recent studies and leading management theorists have advocated that strategy needs to start with stakeholders expectations and use a modified balanced scorecard which includes all stakeholders.
Completing a strategic management course will definitely hone your management skills while making you realize that the entire strategic management process consists of four basic components namely the environment scanning, strategy formulation, strategy implementation and strategy evaluation.
Strategic Planning Associate / Manager
Senior Media Strategist
Strategic Sourcing Director
Strategic Product Development Manager
Strategic Account Manager
Strategic Pricing Manager
Strategic Partner Manager
Strategic Program Analyst
Strategic Product Innovation and Marketing Analyst
We have individual (private class one on one), group classes, morning, afternoon and evening sessions. Every day classes available. You may inquire through any of our training coordinator, plan ahead and start your career with us.
The basic theories and underlying principles behind strategic management
A comprehensive guide that will help you understand how the different multi-dimensional strategic management processes can improve descriptive and normative theories
Learn how to create strategies that work in combining and leveraging an organization's resources to improve its competitive edge
Evaluating opportunities that help you leverage human capital
A guide in effective generative strategic planning
Learn various factors that affect the significance of using an effective management approach to stakeholders and tips to manage the said factors
Topics that tackle how an organization's resources, action and industry structure relate to each other
Construct and hypothesis development theories of strategy-making
Comparison between generative and traditional planning model
Strategies that can help an organization manage and partner with external stakeholders
Certification Issued By:
Institute of Professional Managers
USA
IPM - USA commenced operations in San Francisco USA as an Executive Education programs for positions in Middle East and Far East, Africa. The founders and owners of IPM had worked for many years Executive Education and business training in USA, EU, UK, and Middle East and recognize the growing demand for Executive Education speakers around the world.
Membership Issued By:

High Authority Council for Arab Managers (HACAM)
Egypt
High Authority Council for Arab Managers (HACAM) HACAM believes that this certificate will be a valuable resource for professionals within the Arab world in order to understand how these and other processes for organizational improvement are interrelated. HACAM provides training program in the Middle East and targets Managers of quality-focused organizations/industries, professionals aiming to increase their effectiveness/ productivity and anyone interested in the field of quality.
We provide two easy steps on how you can join the course.
Fill-up the registration form and visit the Institute, with the following requirements then pay the necessary fees.

passport copy or national id copy
1 copy of passport size photo
education certificate copy
CV or background profile