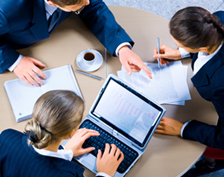 This course is designed to provide the participants with the necessary skills and knowledge on technical expertise and high- level of coordination to ensure the effectivity, development and implementation of the organization' strategic spatial policy and integration.
Having a concrete strategic plan shed light on an organization's unique strengths and relevant weaknesses, enables to pinpoint new opportunities or the causes of current or projected problems. If board and staff are committed to its implementation, a strategic plan can provide an invaluable blueprint for growth and revitalization, enabling an organization to take stock of where it is, determines where it wants to go and chart a course to get there.
CSPM leads and motivates its allocated staff to make a high level of contribution to the organizations plans and long terms objectives. It contributes and helps to ensure that work programs are established, monitored and delivered in accordance organizations priorities and within allocated budgets.
Executives
Division leaders, and
Senior managers
It is also suitable for people from all sectors including the public sector, voluntary sector, corporate sector and private sector.
We have individual (private class one on one), group classes, morning, afternoon and evening sessions. Every day classes available. You may inquire through any of our training coordinator, plan ahead and start your career with us.
Introduction, definition and scope
The role of strategic planning manager in the modern world
The use of strategic planning in choosing the future nature and directions of the organization
Benefits and risk of strategic planning
Assessing the External and Internal Environment
Strategic Planning Process and execution
Certification Issued By:
Institute of Professional Managers
USA
IPM - USA commenced operations in San Francisco USA as an Executive Education programs for positions in Middle East and Far East, Africa. The founders and owners of IPM had worked for many years Executive Education and business training in USA, EU, UK, and Middle East and recognize the growing demand for Executive Education speakers around the world.
Membership Issued By:

High Authority Council for Arab Managers (HACAM)
Egypt
High Authority Council for Arab Managers (HACAM) HACAM believes that this certificate will be a valuable resource for professionals within the Arab world in order to understand how these and other processes for organizational improvement are interrelated. HACAM provides training program in the Middle East and targets Managers of quality-focused organizations/industries, professionals aiming to increase their effectiveness/ productivity and anyone interested in the field of quality.
We provide two easy steps on how you can join the course.
Fill-up the registration form and visit the Institute, with the following requirements then pay the necessary fees.

passport copy or national id copy
1 copy of passport size photo
education certificate copy
CV or background profile