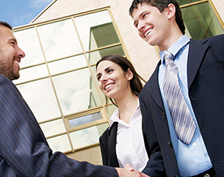 Master Management Consulting training at AIAL offers a combination of academic research strategies and consultancy approaches to give students the tools necessary for a career as a consultant. It also emphasizes strong personal, research and interviewing skills, which helps students select the most appropriate tools for formulating their arguments, for avoiding pitfalls and for providing their clients with real added value.
Over the last decades consultancies are growing, and so is their share in the professional service industry. There is a growing demand for guidance in change processes, for specific expert knowledge, for application of knowledge and for tailor made research that can support decision making processes. Management consultants thus support the management function in organizations as external adviser.
about the issues and questions related to management consulting
about your clients' organizations and their strategic choices related to uncertainties
how to complete evaluation assignments and advice assignments
how to build arguments that help to legitimize evaluations or recommendations
how to present research findings with an action orientation
how to contribute to planned change with change interventions
how to assess the effectiveness of consultancy tools and methods
how to conduct academic research about consultancies and the consulting process
We have individual (private class one on one), group classes, morning, afternoon and evening sessions. Every day classes available. You may inquire through any of our training coordinator, plan ahead and start your career with us.
Entrepreneurship
Financial Management
Human Resource Management
Information and Knowledge Management
Management Consulting
Strategy and Organization
Transport and Supply Chain Management
Certification Issued By:
Institute of Professional Managers
USA
IPM - USA commenced operations in San Francisco USA as an Executive Education programs for positions in Middle East and Far East, Africa. The founders and owners of IPM had worked for many years Executive Education and business training in USA, EU, UK, and Middle East and recognize the growing demand for Executive Education speakers around the world.
Membership Issued By:

High Authority Council for Arab Managers (HACAM)
Egypt
High Authority Council for Arab Managers (HACAM) HACAM believes that this certificate will be a valuable resource for professionals within the Arab world in order to understand how these and other processes for organizational improvement are interrelated. HACAM provides training program in the Middle East and targets Managers of quality-focused organizations/industries, professionals aiming to increase their effectiveness/ productivity and anyone interested in the field of quality.
We provide two easy steps on how you can join the course.
Fill-up the registration form and visit the Institute, with the following requirements then pay the necessary fees.

passport copy or national id copy
1 copy of passport size photo
education certificate copy
CV or background profile