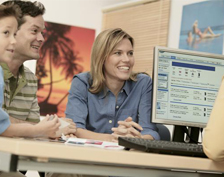 This Course is the ideal way to gain an Amadeus Global Distribution System (GDS/CRS) professional certification. Our training approach is hands on, using practical review which use scenarios that may occur in a Travel Agency. Training curriculum, materials and trainer skills are reviewed regularly. This ensures relevance to current industry practices. This course will give its participants an in depth understanding in the Amadeus system interface and how to use it to create bookings, it will also give knowledge regarding the Reservation maintenance specifically the skills in entering and updating Passenger Name Record (PNR) data with information such as special requests, seat assignments and frequent flyer account numbers, how to handle electronic ticketing and interpret paperless data.

Click here to view Amadeus Certification
We have individual (private class one on one), group classes, morning, afternoon and evening sessions. Every day classes available. You may inquire through any of our training coordinator, plan ahead and start your career with us.
Module 1: Introduction to Amadeus
Module 2: Amadeus Help and Information System
Module 3: Encoding, Decoding and Conversion Options
Module 4: Amadeus Air and Flight Information
Module 5: Passenger Name Record (PNR)
Module 6: Remarks, Service Requests
Module 7: Advance seating requests, seat maps and booking specific seats
Module 8: Amadeus Queues
Module 9: Amadeus Fares Quotes Displays, Notes and Routing
Module 10: Pricing of PNR and Itinerary
Module 11: Amadeus Central Ticketing
Module 12: Amadeus Automated Refunds and Reports
Module 13: Amadeus Hotel
Module 14: Amadeus Cars
Module 15: Amadeus Insurance
Module 16: Amadeus Quick Reference
Certification Issued By:
Amadeus
Amadeus IT Group is a multinational IT Provider for the global travel and tourism industry.
We provide two easy steps on how you can join the course.
Fill-up the registration form and visit the Institute, with the following requirements then pay the necessary fees.

passport copy or national id copy
1 copy of passport size photo
education certificate copy
CV or background profile