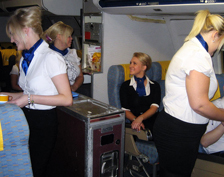 This training program is designed to enhance the knowledge, skills and attitude of a student who is to meet the criteria and perform the job as a cabin crew effectively. Having ultimately captured the importance and significance of such, we are able to upgrade the level of skills of individuals in the airline in-flight service industry by providing skilled human resources and services with regards to the possible use of airline service and safety related equipment, tools and materials. The participants is then granted a certificate of completion once they pass the competency assessment – fast establishing professional pool of flight attendant students ready to serve well for overseas requirements.
We have individual (private class one on one), group classes, morning, afternoon and evening sessions. Every day classes available. You may inquire through any of our training coordinator, plan ahead and start your career with us.
Module 1: Introduction to Airline Industry
Module 2: Aircraft Types
Module 3: World Destinations
Module 4: Aircraft Operations and Familiarization
Module 5: Emergency Situations and Safety Procedures
Module 6: Medical Emergencies and Medical Training
Module 7: Crew Member Coordination and Communication
Module 8: Airline Catering and Customer Service
Module 9: Managing Passenger Interactions
Module 10: Aviation Security
Module 11: Interview Essentials
Certification Issued By:
PITA Panama International Tourism Association
Panama
The panama international tourism association (PITA) is a statutory board as global organization. It champions the development of international tourism sector, one of the country's key service sectors and economic pillars, and undertakes the marketing and promotion to the world as a tourism destination.
We provide two easy steps on how you can join the course.
Fill-up the registration form and visit the Institute, with the following requirements then pay the necessary fees.

passport copy or national id copy
1 copy of passport size photo
education certificate copy
CV or background profile