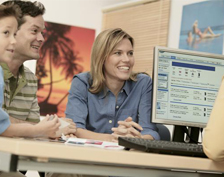 The Galileo is the most well-known among computerized systems utilized in storing and retrieving information and in conducting all transactions relevant to travel. With a Professional Diploma in the Galileo system, you will absolutely gain advantage over other aspirants in the field. This course will give its participants an in depth understanding in the Galileo system interface and how to use it to create bookings, it will also give knowledge regarding the Reservation maintenance specifically the skills in entering and updating Passenger Name Record (PNR) data with information such as special requests, seat assignments and frequent flyer account numbers, how to handle electronic ticketing and interpret paperless data.
We have individual (private class one on one), group classes, morning, afternoon and evening sessions. Every day classes available. You may inquire through any of our training coordinator, plan ahead and start your career with us.
Module 1: Introduction to Galileo
Module 2: Checking the Flight Availability
Module 3: Selling Air Segments
Module 4: Booking Files
Module 5: Galileo Supplementary Data
Module 6: Modifying Itinerary and Booking Files in Galileo
Module 7: Fare Displays and Quotations
Module 8: Ticket Production
Module 9: Advanced Seat Assignments
Module 10: Galileo Client Files and Queues
Module 11: Galileo Reference Information
Module 12: Galileo Travelscreen
Module 13: Galileo Hotel Reservations
Module 14: Galileo Cars Rentals
Module 15: Galileo TIMATIC
Certification Issued By:
PITA Panama International Tourism Association
Panama
The panama international tourism association (PITA) is a statutory board as global organization. It champions the development of international tourism sector, one of the country's key service sectors and economic pillars, and undertakes the marketing and promotion to the world as a tourism destination.
We provide two easy steps on how you can join the course.
Fill-up the registration form and visit the Institute, with the following requirements then pay the necessary fees.

passport copy or national id copy
1 copy of passport size photo
education certificate copy
CV or background profile