Airline Ground Operations Management Professional Diploma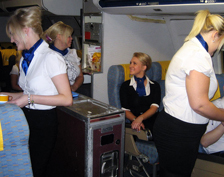 The course aims to enhance knowledge of participants on ground operations management approaches and international standard procedures for management of ground operation services and Service Level Agreements. It helps participants to distinguish operational issues and gaps of practices on ground operations management system as well as to address future improvement strategies. This course will familiarize the students in controlling and supervising airline stations to ensure the provision of safe, reliable and cost effective handling services, is of paramount importance to the success of an airline.
We have individual (private class one on one), group classes, morning, afternoon and evening sessions. Every day classes available. You may inquire through any of our training coordinator, plan ahead and start your career with us.
Introduction to Airline Industry
Principles in Airline Ground Operations Management
Ground Staff Responsibilities and Functions
Operation Ground Standards and Service Quality
Audits and Service Level Agreements
Airline Security Management
Check-in Procedures, Arrivals and Departures
Managing disrupted and delayed flights
Pre & Post Flight Procedures
Overseeing Incoming Flights
Baggage Handling Management
Handling Passengers with disabilities
Dangerous Goods & Special Cargo
Effective People Management
Certification Issued By:
PITA Panama International Tourism Association
Panama
The panama international tourism association (PITA) is a statutory board as global organization. It champions the development of international tourism sector, one of the country's key service sectors and economic pillars, and undertakes the marketing and promotion to the world as a tourism destination.
We provide two easy steps on how you can join the course.
Fill-up the registration form and visit the Institute, with the following requirements then pay the necessary fees.

passport copy or national id copy
1 copy of passport size photo
education certificate copy
CV or background profile