Airline Ticketing and Reservation Professional Diploma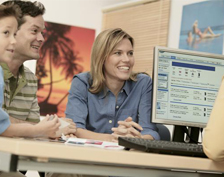 This course provides skills to analyze GDS displays relevant to mileage system pricing. Identify and price different journey types, Read, interpret, and apply fare rules. Use GDS to issue tickets for manually-priced reservations. This course familiarize the participants in the language of fare construction and fare rules so you can provide your customers with the best advice and the lowest fare for their air itinerary and needs. You will develop new skills through practical exercises and with the support of reference materials to become the travel professional your customers trust.
We have individual (private class one on one), group classes, morning, afternoon and evening sessions. Every day classes available. You may inquire through any of our training coordinator, plan ahead and start your career with us.
Module 1: Introduction to Airline Ticketing and Reservation
Module 2: Global Fares, Airline Tariffs and Ticketing
Module 3: Travel Agency Operations
Module 4: Global Distribution System: Amadeus/Sabre/Galileo
Module 5: Airline Customer Service
Module 6: Business English and Email Etiquette
Module 7: Airline Sales and Marketing
Certification Issued By:
PITA Panama International Tourism Association
Panama
The panama international tourism association (PITA) is a statutory board as global organization. It champions the development of international tourism sector, one of the country's key service sectors and economic pillars, and undertakes the marketing and promotion to the world as a tourism destination.
We provide two easy steps on how you can join the course.
Fill-up the registration form and visit the Institute, with the following requirements then pay the necessary fees.

passport copy or national id copy
1 copy of passport size photo
education certificate copy
CV or background profile