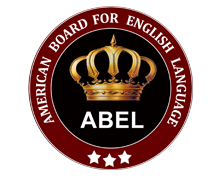 The Board is designed to help the teachers and special educators plan, program, assess, implement and evaluate learning experiences that enable students, to demonstrate achievement in English as well as effective communication skills.

The American Board for English Language Certification believes that highly skilled graduates should also possess a comprehensive body of knowledge that is research-based and promotes English language efficiency.

ABEL is designed to assess a candidate's ability to interpret literary and expository texts, as well as speech, writing, and research skills. Topics assessed are typically covered in college level English and English literature courses. This certification will also cover writing techniques that will evaluate a candidate's ability to clearly interpret literary works. At the latter part of the course, students will be asked to compose their written response without access to any writing aids such as spelling and grammar tools.
develop the language skills you need for essay and report writing, giving presentations and taking part in lectures and seminars
support and develop your study skills to a level where you are able to study effectively and successfully;
improve your confidence when using English, both within and outside the Institute
increase your grammatical and idiomatic use of the English language
We have individual (private class one on one), group classes, morning, afternoon and evening sessions. Every day classes available. You may inquire through any of our training coordinator, plan ahead and start your career with us.
advice on using the teaching and learning cycle effectively
strategies for supporting students across the modes: speaking and listening, reading, writing
strategies for students who experience specific difficulties with receptive and expressive communication
Case studies demonstrating how the assessment and teaching strategies outlined can be used in the classroom.
Certification Issued By:
British Language and Examination College
BLEC UK
Established as a statutory board. It was formed to develop and conduct national examinations worldwide, and to provide other examination and assessment services and products, locally as well as overseas.
We provide two easy steps on how you can join the course.
Fill-up the registration form and visit the Institute, with the following requirements then pay the necessary fees.

passport copy or national id copy
1 copy of passport size photo
education certificate copy
CV or background profile